No Superbowl for Hubs and me! Our TV doesn't get that channel anymore (yep, we're two freakish luddites with NO cable television - horrors!), not to mention the fact that neither of us like football.
However, yesterday was very special in that our band,
Bemular
, had a song appear in a
Lucky Strike Bowling commercial
-- plot summary: sexy blonde girl falls down. But it was a pretty good commercial, overall, and was co-produced by Hubs' friend Dennis (also a comedian and Youtube
spoof star
). The song is called "Down in the Oven," and can be downloaded for free by
liking the band on Facebook
.
To celebrate, we went out for burgers and a nice walk - the weather was nice enough for shorts, but a little breezy near the beach, so I was able to wear this lime sweater, which is usually either too warm or too cool to wear anywhere.
This week, I am taking part in the
Neutrals Challenge
over on the YLF forum. I was glad to have this outfit waiting in the wings, which I'd put together while trying to decide whether or not to keep the dress. I'm glad I did end up keeping it - it is very, very comfortable - and it was about 1/4 the price of the
near-identical
styles at
Anthropologie
.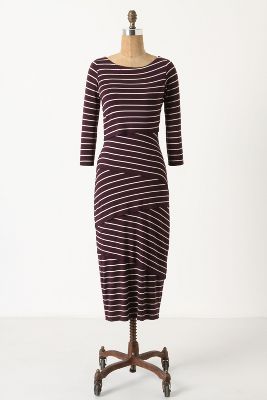 Bailey 44 Tiered Stripe Dress - $178

One-Dollar Wonders
NY&Co Lime Cowl Sweater
Lucky Brand Shorts
Brown Leather Belt
Honorable Mention
Flyaway Cardi - $12 via Target
Fergie Major Smog Boots - $35 via Overstock, Overstock CC $20-off promo
Francesco Biasia Burgundy Leather Bag - $40 via Ebay
Other
Fergie Major Black Boots - via Nordies clearance
Cha Cha Vente Tiered Striped Dress - via Macy's
Specialchoice Bag - via Ebay